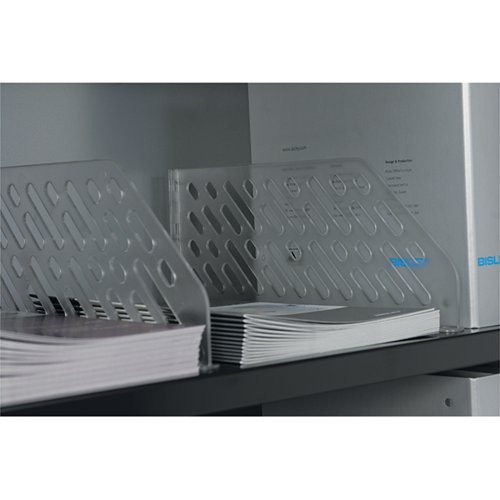 Designed for use with Bisley cupboards and Tambour units
Durable
For use with Bisley Slotted Shelves
Colour: Clear
There may be additional delivery charges for the Highlands, islands, and Ireland (please call us for details)
Description
Bisley Shelving Accessories are ideal for use with Bisley Tambour Units and Cupboards. There is a wide selection of shelving fixtures available to cater to the needs of your home or office. These Shelf Dividers are designed to be used with Bisley Slotted Shelves. Suitable for use with A4 and Foolscap paper sizes, these shelf dividers allow you to create adjustable spaces in you shelving units to suit your filing system.
2-4 weeks estimated delivery time
Specifications
Hexavalent Chromium (ppm)
Delivery estimates:
Standard Delivery items despatched from Ireland:
1-3 business days
Standard Delivery items despatched from the UK:
2-5 business days
Furniture items (excluding Office Screens):
2-4 weeks
Office Screens:
3-4 weeks
Non-Standard delivery items dispatched from the UK:
2-6 weeks
Please Contact Us for additional delivery information specific to your order.